Jim Russell, Scott Salter, Paul Klenner, Ron Gill, Bruce Kocer and Bill Vengler from our Council participated in the Bust 'Em for Breast Cancer fund-raising sporting clays shoot.
Read More
Auto Show Coat Check
Other photos
Read More
The 2017 MI Drive was our most successful yet with a fundraising effort gaining over $5500 for charities. Gary Putt (first pic) does great work every year coordinating this important cause.
May 2017
A handful of Knights, once again got together to collect wood for our successful firewood sale. On this day, we obtained wood from three different locations. Here are photos from one of them.    …and there's break time!
The Rite of Ordination of Priest for Fr. Craig Marion on June 3rd. One of the purposes of the Knights of Columbus is to support religious vocations. For the last three years, our council, #6824, has been sponsoring this seminarian at $2000 per year. Our efforts have come to fruition with this most blessed sacrament of Priestly Ordination. His Eminence, Adam Cardinal Mida, was also present.
On August 26th, the newly ordained Fr. Craig Marion visited St. Anne's to celebrate the vigil Mass. During the Mass, the Fourth Degree and the Color Corp presented Fr. Marion with a Chalice in honor of SK Ed Valverde who had passed on. His wife, Donna, handed the chalice to Fr. Marion.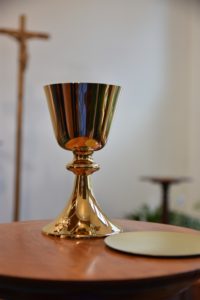 Read More
Knight of the Year – Bob White
 
 Family of the Year – the Paul Miner Family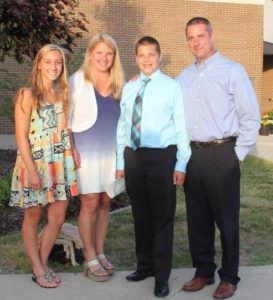 Our council is very active assisting our parish, St. Anne's, with maintenance, improvements and community service. Here is Mike Dlugoss and Paul Miner helping to paint the exterior of Hardy Hall.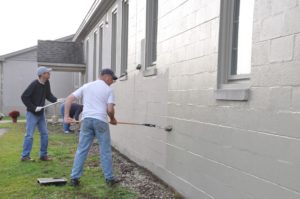 Woodcutting and Firewood Sales is an ongoing project because of generous help of the Brothers.
Once a quarter, our council prepares and host a fundraising pancake breakfast. In 2016, we were bless to have two high school students, Amanda(4th pic) and Lukas(2nd pic) Miner, (Paul Miner) assist us. They have greatly helped to expand and improve the menu and taste.
Thanks to the donations of brother Frank & his wife Cathy Genovese, for the second year in a row our council had another successful fundraiser selling fresh homegrown produce
Wine tasting has always been a good success and a good time. The monastery  for the Sisters of Mount Tabor were the lucky beneficiaries of this years fundraiser
Our council tried something new this year. We sponsored the Bob Knowles Memorial Shoot in Grand Blanc. We had good participation for our first effort thanks to Bill Venglar's initiating
The Fourth Degree in the opening procession for our quarterly Corporate Communion Mass
For the third year in a row, our council has donated enough books to the parish for distribution to all attending the three Mass'.  Each year, a different book written by Catholic writer and speaker Matthew Kelley, was given to parishioners.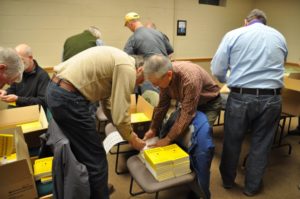 Read More